The business climate we are in is constantly changing with the Coronavirus affecting business with problems that are once in a lifetime. We are sitting in on webinars daily because of the challenges we are all facing having employees. Check back regularly because we are going to pass on some of the things we see and try to guide you through this turbulent time. In the meantime, here are some general business tips.
1.Evaluate remote workplace opportunities-make sure that remote VPN is working and more important make sure that people know how to log on and use it before they may be required to not come to work by the government. It is easier to teach people face to face while you have the opportunity.
2.Time for your CEO to earn his leadership roll-employees find it settling when they are getting information and updates directly from the leader
3.Online Healthcare-Check with your healthcare provider. Many are waiving the copay. You can get you prescriptions and health questions answered without make a physical visit to you doctor.
4. Time for you and especially your employees to stop looking on Facebook for information on Covid 19. Bad information is running rampant when it comes to social media. In a crisis like this it is important to get your information from a reliable source. We all remember the game telephone were you whisper a saying to someone to the end the information is nothing like what it sounded when you started.
View this informative infographic from SHRM below.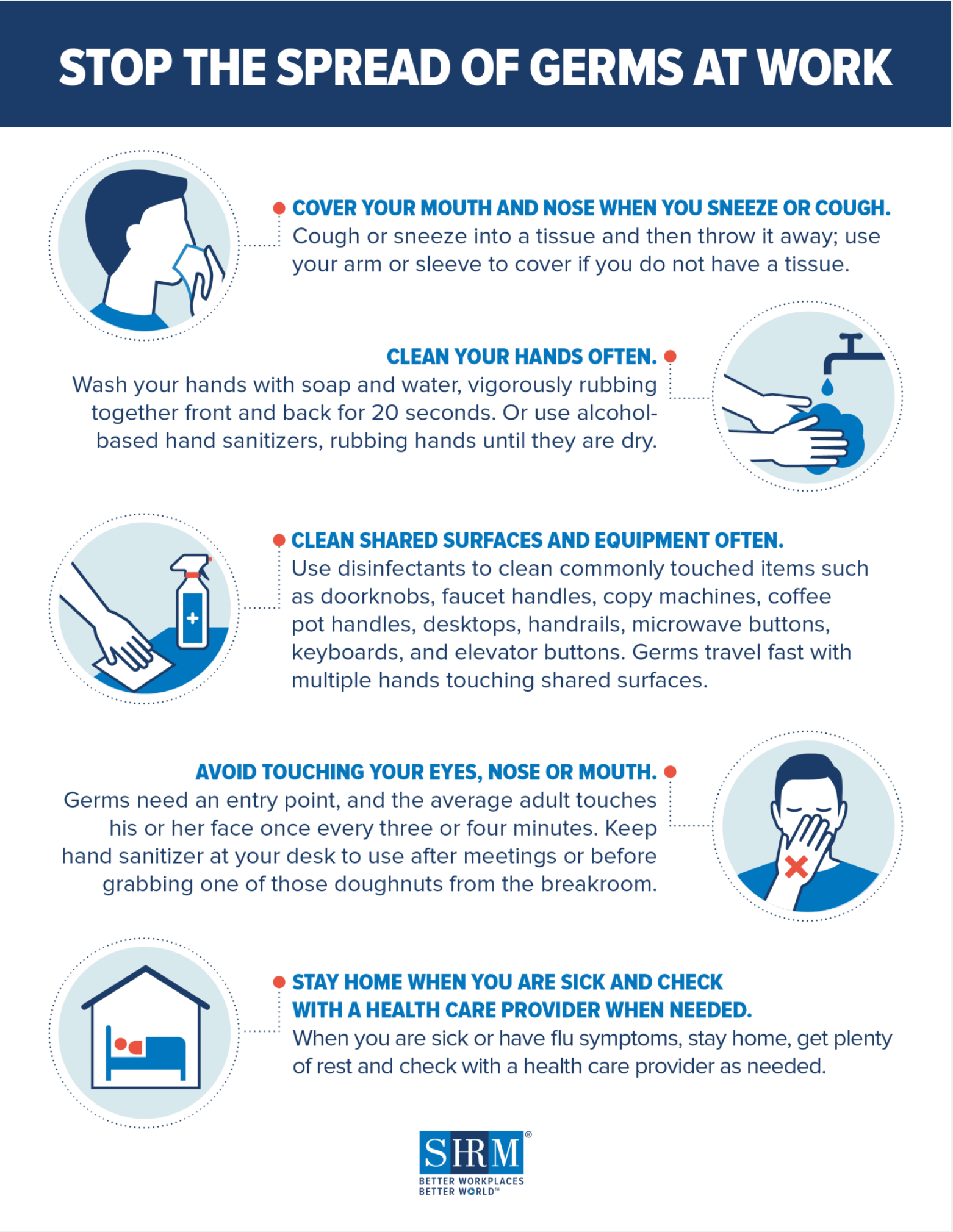 Below are some places that you can trust to get your information from.
CDC Coronavirus COVID-19 page.
CDC Travel Alerts.
State Department Travel Alerts.
Department of Homeland Security (DHS) Airport restrictions.
World Health Organization (WHO) Situation reports.
WHO – Coronavirus Myth Busters.
CDC Coronavirus Business Planning.
Other State Public Health Departments.
We are here to talk about any of your HR questions you may have 860-528-0555
---
Go Back